Today is the second day of the 40 Days of Prayer challenge. If you missed yesterday's prayer and would like to add it to today's prayer, you can find it
here
.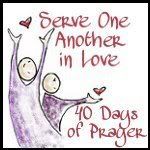 Today, we are praying for those who are currently battling mental illness. As someone who has dealt with depression and anxiety, I know how hard it can be to admit you have an issue and there are days it feels impossible to deal with life. I also know that I am blessed because my issues are mild compared to so many people in the world.
I am praying for peace and healing for those with mental illness. I am also praying that those who have not been diagnosed will take the first step towards living a fulfilled life without the demons facing them on a daily basis.
If you or someone you know needs prayers for dealing with mental illness, feel free to leave us a comment and we will add you to our prayer list for the day.
If you are joining us on this 40 day journey of prayer, please add your link below so we can support one another in love. If you're so inclined, you can also grab the button to the left to let your readers know you are participating and invite them to join the challenge!