Today is the 12th day of the 40 Days of Prayer challenge. If you missed yesterday's prayer and would like to add it to today's prayer, you can find it
here
.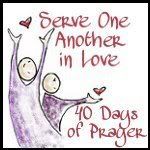 The soul of the sluggard craves and gets nothing, while the soul of the diligent is richly supplied. - Proverbs 13:4
Today, we are praying for students to be diligent in their schoolwork and to respect their teachers. In our busy world, it is easy for children to get off track and lose the initiative they once had in doing schoolwork. Also, many students see teachers simply as people to make their life miserable, and they don't show much respect or thankfulness for them.
Even though most students don't really like school, they still need to show respect for their teachers and peers. Teachers are there to help students learn and homework is there to help better prepare students for the real world. Students are being provided with wonderful resources through schooling, and we don't want them to miss out. Be praying the students can stay on track, focus on what's important, and realize what a blessing their education really is!