Thank you to Sydney for jumping in to help out this week!
Today is the 11th day of the 40 Days of Prayer challenge. If you missed yesterday's prayer and would like to add it to today's prayer, you can find it
here
.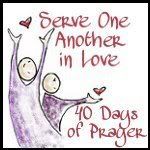 Today, we are praying for people to be set free from their addictions. Understand that whatever someone's addiction may be, they are not a bad person. They have just made some wrong choices, that, with prayer, we can help them overcome.
Deep down, those with addictions are no different than any of us. We all make wrong choices sometimes, and we eventually pick ourselves back up again. If you know someone battling an addiction, don't be a stranger! Reach out to them in their time of need. Sometimes all a person needs to get their life back on track is a little encouragement and the comfort of knowing they are not alone in this world.