Today is the 10th day of the 40 Days of Prayer challenge. If you missed yesterday's prayer and would like to add it to today's prayer, you can find it
here
.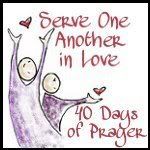 They will answer, 'Lord, when did we see you hungry or thirsty or a stranger or needing clothes or sick or in prison, and did not help you?'
He will reply, 'I tell you the truth, whatever you did not do for one of the least of these, you did not do for me.' ~Matthew 25:44-45
Today, we pray for those who are homeless. Whether it is by poor choices made in life or a failing economy, they are all deserving of our prayers. We pray for their safety and health and someone to help give them the tools to regain the life they want to live.
I will also be praying for every one of us to find it in ourselves to help the homeless in some way. Just as with my post on paying it forward, there are many different ways you can help the homeless. Perhaps you can find time to take your family to a soup kitchen to volunteer or you can stock up on toiletries when you find them on sale and donate them to a shelter. The homeless shelters in our area also accept donations of old blankets and coats.
If you are joining us on this 40 day journey of prayer, please add your link below so we can support one another in love. If you're so inclined, you can also grab the button to the left to let your readers know you are participating and invite them to join the challenge!