Today is the 9th day of the 40 Days of Prayer challenge. If you missed yesterday's prayer and would like to add it to today's prayer, you can find it
here
.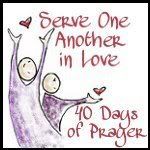 They must turn from evil and do good; they must seek peace and pursue it. ~1 Peter 3:11
It seems like it is impossible to turn on the news without hearing about wars and violence in other parts of the world. Today, we pray for those who live in these areas. We pray that God will keep them safe from the dangers they face every day and we pray for peace and understanding among the fighting factions.
When two groups are so passionate about their cause, it is easy to attempt to resolve the issue without regard for the innocence that is sure to be lost. It is only once everyone begins to seek peace that true progress can be made.
If you are joining us on this 40 day journey of prayer, please add your link below so we can support one another in love. If you're so inclined, you can also grab the button to the left to let your readers know you are participating and invite them to join the challenge!