asToday is the fifth day of the 40 Days of Prayer challenge. If you missed yesterday's prayer and would like to add it to today's prayer, you can find it
here
.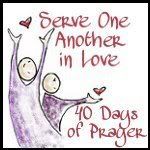 If you are not from Wisconsin, feel free to prayer for your state's leadership in place of Wisconsin today. On the other hand, being a proud Wisconsinite, I can tell you we need all of the prayers we can get. For the past month, our state has been in the middle of a huge debate over collective bargaining rights as well as MANY other items that the governor is looking to cut or limit as a way of repairing the budget. I'm not trying to get political and will not inject my personal views here, but we could really use prayers that both sides can eventually work together to come to an agreement that is good for the budget and good for the state.
Every weekend, the size of the crowds at the Capitol continues to grow. The leadership is convinced that if they ignore the people long enough, it will all go away. Even though the bill was passed this past week, there was a record crowd on hand yesterday including a tractorcade of farmers driving through the streets of downtown Madison to show their support. Maybe on another post I will tell you about my first trip up there, it was pretty amazing and I would have thought so no matter which side I was on! Below is an image of some of the signs inside the Capitol before they were taken down and cataloged for the WI Historical Museum and the Smithsonian.
In addition to the leadership in general, I am praying for the crowds to remain peaceful in this time of incredible stress. I have a second cousin who is a legislator for the state and worry every day that someone may get stupid and take their anger out on him. There is also a woman who I had the pleasure of meeting during my time working outside of the home that has become a bit of a point person in getting information out to the public. I want both of them, and everyone else, to be safe!
If you are joining us on this 40 day journey of prayer, please add your link below so we can support one another in love. If you're so inclined, you can also grab the button to the left to let your readers know you are participating and invite them to join the challenge!