I apologize that today's post is so late. My husband had oral surgery yesterday and it was rather draining on both of us. I typically write the post in the evening so I can't forget to post it and last night I fell asleep, savoring a house with no children for a night!
Today is the third day of the 40 Days of Prayer challenge. If you missed yesterday's prayer and would like to add it to today's prayer, you can find it
here
.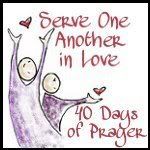 On this day, we are praying for the safety of drivers. In my mind, the biggest thing we can pray for and control is our own actions. It's easy to get frustrated when you are behind the wheel and not consider the safety of others when we swerve from lane to lane. I will be praying for not only the safety of others but for peace and calm within myself when I am behind the wheel.
As a minor off-shoot, I am also praying for parents to seek knowledge regarding the proper harnesses for their children. Too many times, parents are eager to move their children to a larger seat for their own safety. I pray they will consider the safety of their children and place that over their own convenience.
If you are joining us on this 40 day journey of prayer, please add your link below so we can support one another in love. If you're so inclined, you can also grab the button to the left to let your readers know you are participating and invite them to join the challenge!
<script src="http://www.linkytools.com/basic_linky_include.aspx?id=79709" type="text/javascript">
</script>